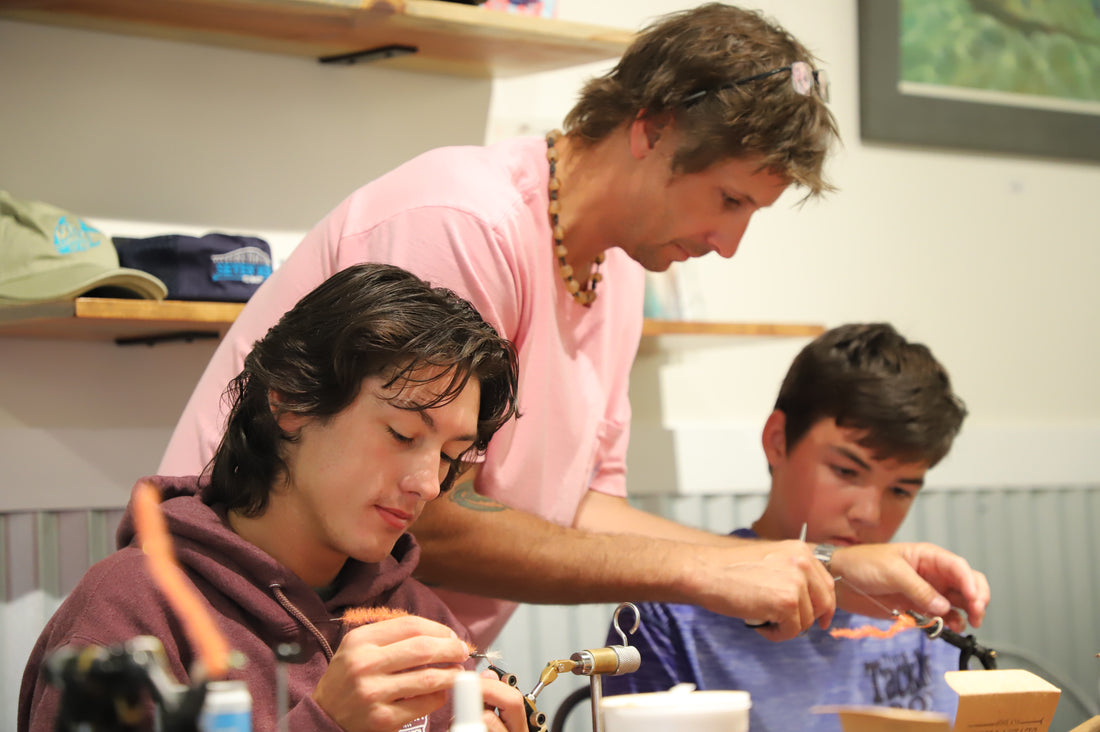 Ricky Baudoux is a one of our local fly tyers who lives just down the road from the shop on Big Pine Key with his family. Ricky has been tying bonefish and permit flies for the shop for the past several years. His flies usually sell before we can even put a price tag on them. We wanted to get to know him a little better so we sat down with him for the SMFS's Five Question Series. 
What lead you to fly tying? I was living in Saratoga Springs, NY and I hated cold weather. At the time, I was heading down to Key West to fly fish a few times per year. I figured tying flies was a good way to pass the time on the weekends in the winter and to concentrate on flats fishing. Are there any tyers that inspire you? Peter Smith of SS Flies took the time to teach me how to tie flies. I was buying flies from him for my trips to Key West and Belize. Dave Skok ties some of the best looking flies I've seen and I'm constantly comparing my flies to his to see how I can improve. Nick Davis of 239 Flies took tying flies on Instagram and turned it into a brick and mortar fly shop. 
What was your first fish you caught on a fly that you tied? I honestly cannot remember, if I had to guess it was probably a Bonefish in Belize. What was the fly? If it was a Bonefish in Belize it probably a pink and tan Foxy Gotcha.
What brought you to the FL Keys and what do you love about living and fishing down here? The first thing that brought me to the Florida Keys was the weather and the water. I live on Big Pine Key and it's my favorite spot I've ever lived. I live on this island full of deer, and surrounded Bonefish, Tarpon and Permit. I love that there is something to fish for all year long.
What is your favorite fly to tie and why? Gotcha. It's one of the first flies I learned to tie. It's a simple fly that you can get creative with.


What makes your flies stand apart from other tyers? Quality and consistency. I'm always trying to get better and I love tying flies. How do we know it's a Ricky Baudoux fly? They look good, they work!
If you are interested in purchasing some of Ricky's flies, please call the shop at 305.440.3406 to put some of his patterns in your box!
0 comments