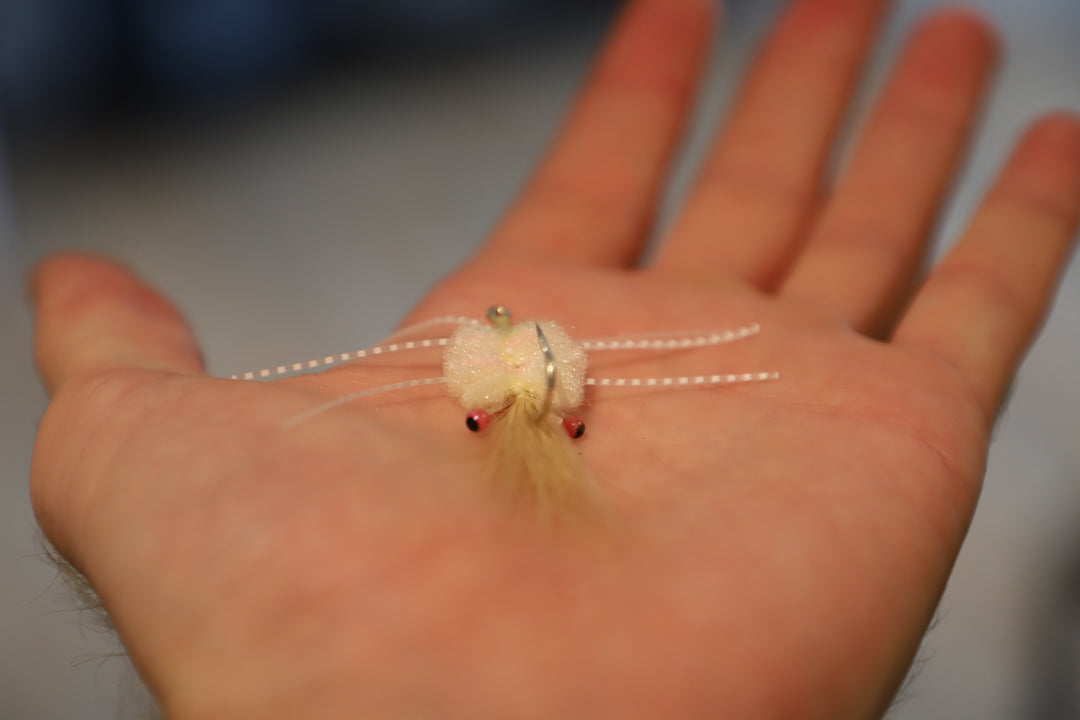 Why Use Eyes?
The eyes on shrimp and crab flies can make the difference between tying a fly that is impressionistic and tying one that is ultra realistic. I personally love using eyes on my shrimp and crab flies, because it gives me confidence when throwing at picky fish. Tying a fly with eyes means you are taking an extra step in attention to detail, or just having fun with colors, new materials, and letting your imagination run wild. 
What Exactly Am I Replicating?
When tying flies, I enjoy the liberty of taking real photos of shrimp, crabs, and baitfish to try my hand at conjuring something similar in all aspects of the term - profile, color, and movement. The satisfaction of tricking a fish into thinking what I created heightens the experience because I know I replicated exactly what could be in the diet of the fish, at least that's what I tell myself! 
In "Fly Fisherman's Guide To Saltwater Prey" by Dr. Aaron Adams, the common food of bonefish and permit are identified and paired with different flies throughout the years that imitate them. This book is one that every fly tyer should have on their bookshelf, because it not only gives readers a firm base of proven flats flies, but more importantly, can act as a huge source of inspiration when you are looking for the missing piece at the fly tying table. I often turn to this book when I am searching for ideas to make a mediocre pattern better. There is a saying that in order to break the rules, you have to know the rules, and this book offers a great summation of nature's, and fly tying's "rules," so to speak.
Dr. Aaron Adams includes photographs of white and brown shrimp in this book (pg. 46, 47), and what always strikes me about his findings is how boldly pronounced the color of the shrimp's eyes are in contrast with their body. I think this is important, because I would assume that color contrast in clear water can act as a trigger for fish to know something is alive and ready to be eaten. Obviously, I am no scientist, but as far as visibility in the water, the eyes on baitfish, crabs, and shrimp are known to be a dead give away.
To risk being totally redundant, the eyes in our shrimp and crab flies have to make a difference! Whether they are huge or tiny, there must be something that catches the eye of a fish. Because myself, and many other anglers and guides would hypothesize a similar theory, I do not roll the dice and add flies any chance I get!
Fisherman vs. Fish
In the past, I have shown some fly tying fanatics the variety of eyes we offer here at the shop, and they often wonder if the selection is a ploy to lure in fishermen, and not so much the fish being chased. In all honesty, I think it could be a little bit of both! When I am fishing with flies that I have tied, I do like to make sure each box is checked - good material proportions, correct colors and weight, and obviously, the right presentation. When I am on the vise, I can get a little hectic with everything. I like using eyes because they give me a little spike in confidence, and in my mind, that confidence is worth it. Having eyes does not always convert into results, but when fish are being caught on that given pattern, I can't help but think that they played a part in the success.
UV Reflective Eyes vs Non
Walking into a fly shop, you have undoubtedly seen UV labels on material packaging and maybe questioned them, maybe not. What does that mean, really? And what does a UV reflective material actually do to the fly, in relation to the fish and how they interact with the fly? Its all about visibility! Down here in the Keys, the water can be quite clear, so visibility is not something we usually have to worry about. Perhaps we have to worry about our fly, tackle, and boats being too visible.
All that label really means is that when UV light (like the sun, or a Loon torch) hits certain colors, they illuminate brighter, thus enticing more fish (in theory). Because we fish clear water for bonefish and permit, the subtle colors against bright colors offer contrast, which gives me a lot of confidence when throwing flies. The eyes are no different on the fly, when contrasted directly against the body. Using these thoughts, being bold with color is not always a bad idea, and some colors might actually surprise you! So go out of your comfort zone of the traditional shrimp and crab color palette (white, tan, olive) and use something eccentric and bright!
An Overview of our Eyes:
Evil Eye: Handmade in the USA by a good friend of the shop, Peter Ellman. These eyes are tied on Mason Hard 25 lbs. mono, and burned to perfection. The eyes have a good amount of mono left over, so if you are someone who likes a weed guard, you have a little extra to save for each fly. Clever, effective, and worth checking out!
You know your eyes are going to be  perfect when they are crafted by the hand of surgeon like Peter! With a variety of colors, you can take any color scheme and make the fly an exact replica of what you are trying to perfect. Peter also does a great job with making consistently sized eyes with pupils that match.
Easy Shrimp Eyes: A favorite of shrimp artists everywhere, and like the name suggests, they are easy as hell to tie on and make your flies come to life. There is a short post that connects both eyes, making an outline that looks like a "Y" for easy application and separation between the hook as well. They come in many vivid and bright colors as well as more see through pieces and even glow in the dark.
Enrico Puglisi: EP makes a set of eyes that are great, and fairly standard as far as color, size, and shape go. Where the EP eyes shine is their durability! A great set of eyes for any tyer.
Make Your Own: Whether you are burning your own mono, adding beads to the end of mono, or globbing on some UV resin and glitter, you can make your own if nothing on the market suits your needs!
Not a fly tyer but interested in some flies with eyes? Check these out!
Foxy Merkin (Using the Easy Shrimp Eyes)
Joe Dahut putting the Foxy Merkin through some field testing. Guiding and photo by Greg Smith of Marathon.
Florida Keys Kwan (Using Evil Eye Fly) 
0 comments