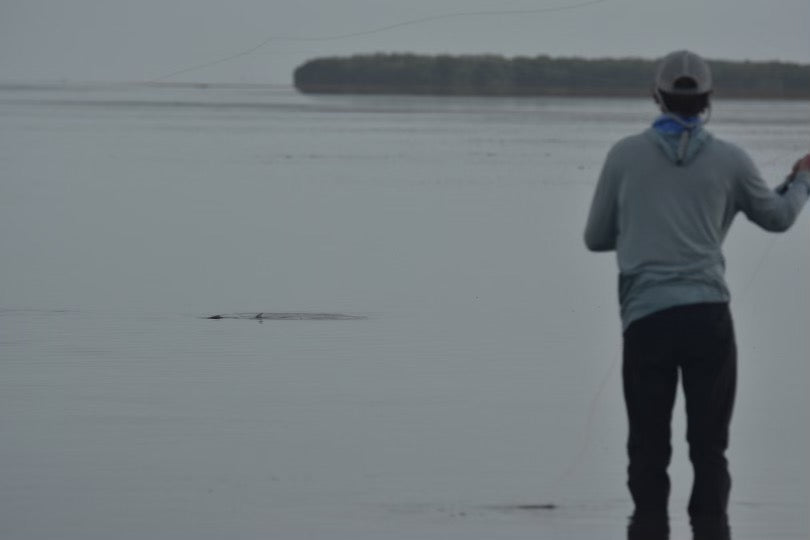 As summer comes to a close for us here in the Keys, we can reflect on a productive bonefishing season that allowed us some time here at the shop to test some new patterns on our favorite belly crawling fish.
Alongside the tried and true bonefish flies that we often throw in the Florida Keys, there are some new players that should be added to your roster for your next trip!  
Don't leave for the Keys without some extra bonefish flies, tied locally and commercially, but tested extensively to ensure positive results. We rounded up the shop crew at Seven Mile and asked what the favorite picks were to feed summertime bonefish in the Keys, and here's what we found...
The Flexo Crab is originally a fly designed for permit in the Seychelles by Alec Gerbec of Alphonse Fishing Company. The fly is definitely one that can switch back and forth between the realms of permit fishing and bonefishing alike. At the shop, we have Flexo Crabs tied by Cory Wheeler of CW Flies, tied on a Gamakatsu SL12s size 2, a perfect snack sized crab for bonefish and skinny water permit. We had lots of reports this summer of anglers seeing success on a quick twitch of this fly in groups of bonefish and singles as well. We even had a customer report that blind casting this fly on foot lead to his personal best bonefish (not the most productive approach for bonefish, but whatever gets the job done!). The fly has gone through many changes over the years and it is a great choice for the angler that wants to check a Keys bonefish off their list. We like this fly because it spans across species and fisheries to make a great option in the fly box. 
Spawning Shrimp
The spawning shrimp platform is one that gets eaten by bonefish worldwide, in several oceans, on all tides, particularly from EP and Rio. It flat out works. That being said, it is a pattern that everyone's guide has tied on at some point if they have chased bonefish before. But for folks who have never tried, we would be remiss if the spawning shrimp didn't make our list. The Keys are no different, and on more than one occasion, we heard reports from our customers and guides that they were throwing Spawning Shrimps with a lot of success. The color and weight range allows anglers to cover a wide range of the water column, which is highly important if you are seeing fish in skinny water, deeper water, or somewhere in between. White, olive, and tan with a hot spot of orange seem to always do the trick.
The Foxy Merkin offers a range of possibilities when bonefishing, and when it is tied larger and heavier, it can be a great option for a permit fly. A drastic vertical drop, this fly makes feeding tailing fish in skinny water a breeze. Tied with some unique materials, the fly suspends well and is mottled with several bright colors. In some recent field testing, Joe Dahut played around with placement of the fly far away from the fish, pleased to see their positive reaction, racing over to the fly and gobbling it down. In bright light, it can be fished this way (a farther presentation with planned suspension) and in the evening, it can be effective when thrown in tighter.
The Foxy Merkin, in blue and white, gets some work. Photo and guiding by
 

Captain Chad Huff. 

 

Joe Dahut got inspiration from this fly from Del Brown's original Merkin - a fly that changed permit fishing forever, and the Shrimp Beast from Chris Adams. It is a buggy mixture that is reliable in a variety of angling situations.
Another fly that has received a lot of field testing for bonefish this summer, one of Joe's patterns - the Coyote Shrimp. After going through several drafts, the Coyote Shrimp was not staying in the bins long as it got some acclaim with local anglers and guides. A naturally buoyant material in coyote allows an even balanced drop with a noticeable flutter in its tail. The material, if you have never used it, swims like marabou with a little more 'body' so to speak, which allows anglers to let the fly suspend and continue to move without actually twitching the fly. This technique has proved to be important in skinny water fishing, when little movements make big motions to a wary fish. Fishing this fly 'on the pause' is recommended, and can be wildly effective.
A favorite and go-to of sales associate Leota Davis, Rio's Bone Doctor checks all the boxes of a successful bonefish fly. The perfect blend of color and slight flash, this fly can be fished, like the other bonefish flies, all summer long with great success. Leota threw this fly at some bonefish in her hometown of Abaco and saw lots of positive results!
No matter where you are chasing bonefish, try to think outside of the box when it comes to what is in your fly box. Please give the shop a call at 305-440-3406 if you have questions or thoughts about any of our bonefish selections available. We are happy to talk fishing, fly tying, or fly selection with you!
Have fun out there and don't forget to keep bonefish in the water for as long as possible. Handling bonefish is a delicate ordeal, so please be mindful of how much contact you have with bonefish, both in, and especially out of the water. More information about bonefish handling tips can be found here on Bonefish & Tarpon Trust's website.
0 comments